The NASDAQ 100 Index has rallied quite nicely after bouncing off key support early last week. However, price has run into key resistance, which could shift the power over to the bears en route to another round of selling pressure. Here's why..

Resistance
The daily chart shows the NASDAQ 100 ($NDX) rallied into major resistance at 2,325, which is precisely where it turned down in September ahead of the major sell-off to 2,040.
The $NDX rallied into 2,325 late in the session and immediately began to sell off, leading to a complete turnaround from the session highs.
The significance of this is the fact that selling pressure at the end of the session was so strong it basically flipped what was a highly bullish day into one with very bearish overtones. The result is a bearish candlestick pattern with a long wick (or tail) on top.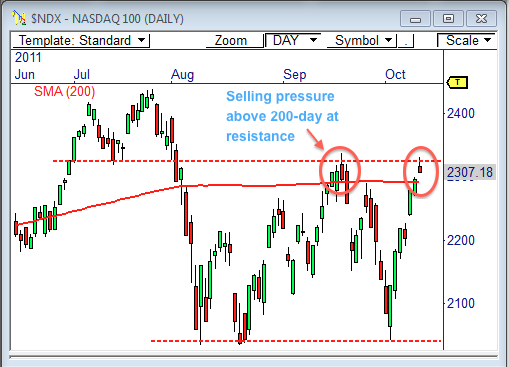 As you may know, this series of events creates fertile ground for another sell-off ahead.
Add to this the fact that resistance at 2,325 was also formerly support in July, and you have the makings for another key decline ahead...
The 200-Day
The 200-day moving average is an important long term benchmark for analysts and traders. Traditionally, price levels are considered long term bullish above it, and long term bearish below it.
For the first time in about two years, the $NDX has traded predominantly below the 200-day for about ten weeks straight, which is very bearish.
Since the index has traded below this zone for over two months, the fact that it closed above it two days in a row may actually signal a call to action to sellers looking to sell into an overbought condition - similar to what happened in mid-September.
If the $NDX closes below 2,290 in the next day or two, look for sellers to jump on the bandwagon.
A sell-off could easily push price back toward 2,200, with the potential to drop back to 2,100 or lower.
If buyers are able to defend 2,290, however, keep an eye on 2,340 for signs of continued strength back toward 2,400.
The lines in the sand have been drawn. Let's see what happens!
Cheers!
Frank Ochoa
The Pivot Boss
Follow Frank on Twitter:
http://twitter.com/PivotBoss